Make A Donation
Please help us continue to clothe the homeless by making an
online contribution to our cause.
For USPS deliveries please send checks to:
Gifts for the Homeless, Inc.
Department Number 0046
Washington, DC 20073-0046
No FedEx or UPS deliveries please.
Contribute to GFTH through Amazon.com with no additional cost to you!
Upcoming Events
Our Online Community
Become A Sponsor or Donate
Organizations that would like to donate to the Used Clothing Drive or become a sponsor for Banding Together should enter in their email address for more information.
Your email address must be confirmed(check spam folder). Don't worry, we won't share your email address.
SAVE THE DATE FOR THE 2014 GIFTS FOR THE HOMELESS

ANNUAL USED CLOTHING DRIVE
Our clothing drive will take place this year from Friday, December 5 through Sunday, December 7, 2014.  We are beginning to gear-up for the drive and hope you will too by
signing-up to volunteer online
, starting to set aside your intended used clothing and household donations (we unfortunately cannot accept them until the weekend of the drive), and spreading the word to all who you know would love to support and volunteer with us (employers, law firms and other legally-focused organizations, non-profits, coworkers, friends, family, neighbors and others).  More details are available over

here.

 

Come join us for what is expected to be another successful year!
THE UNNAMED PARTY CROWNED THE 2014 BANDING TOGETHER: BATTLE OF THE LAW FIRM BANDS CHAMPION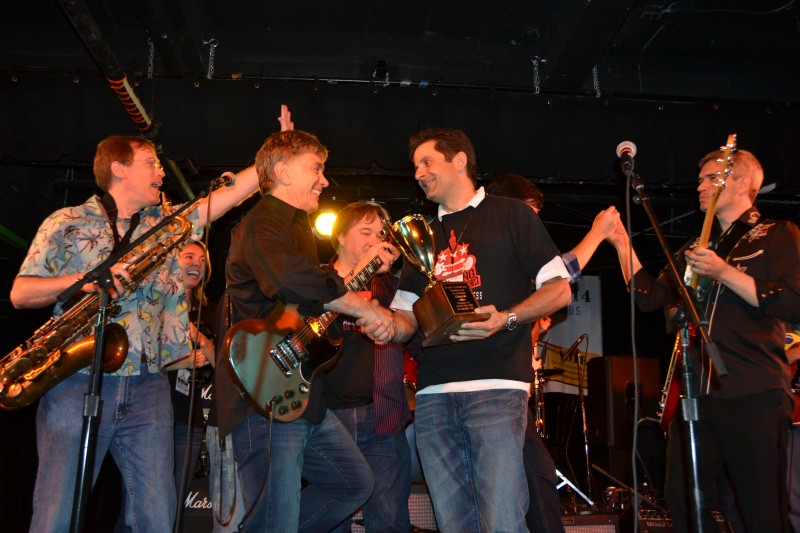 The grand totals are in! Gifts for the Homeless smashed its old record, raising approximately $303,000 from Banding Together: Battle of the Law Firm Bands!!!!  Unnamed Party,

represented by

Paul, Hastings, Janofsky & Walker

Arent Fox LLP

Hunton & Williams

, was crowned the champion two years in a row, with

Sutherland

Comfort as the honorable runner-up.  Third place went to

Attractive Nuisance

represented

by

Steptoe & Johnson PLLC
  We cannot
thank enough our top three bands and the 13 other contenders, our emcees, our

dedicated sponsors

, our voters, and all who came out to rock and contributed support for our charity benefit concert.  Awesome music was played and it was a blast.  All of you made this event a tremendous success and we are so awed by your enthusiasm and generosity!!!!
Coverage of the event can be found on the
press section
of our website, where you can also listen to
CBS radio's audio story on the event
, as well as heading over to our social media accessible on the right hand side of this page.  We encourage everyone to contribute photos, videos, and praiseworthy comments on those outlets.  If anyone would like to submit an article to be posted on our blog and social media, please contact Lisa at
Lbernstein@gfth.org
---
Latest News
---
Gifts for the Homeless, Inc. (GFTH) is a non-profit corporation comprised of lawyers and staff from area law firms and other legal organizations that volunteer in their spare time and that has been serving the homeless of Washington, DC since 1986. GFTH holds a used clothing drive each December and holds a battle of the law firm bands charity concert each summer to serve area shelters and also raises money used to purchase new clothing for homeless men, women and children. Every dollar GFTH receives from the public through donations is used to purchase and distribute essential clothing for the homeless in the DC metropolitan area.